iTunes Library Updater

Tags:
Dead Tracks
|
iTunes Library File
|
MetaData
|
Update
Added On:
18th Jan 08
Links:
[
site
] [
download
]
Synchronise the iTunes library with all songs in your "My Music" (or user-defined) folder. It will run through the folder and add any songs that don't appear in the database already.
As well as this "Add New Media" ability, it has options to "Clean orphaned entries", for which you can specify what directory the file must be in to be deleted.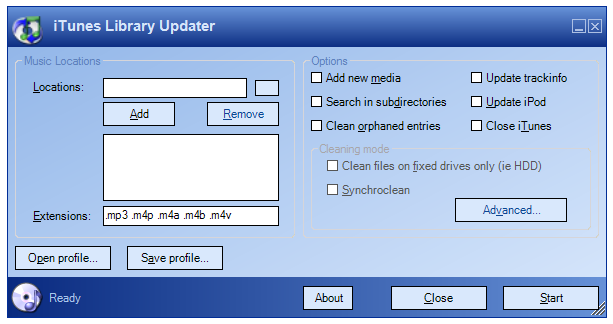 The full run-down of options and the information tooltips that describe them:
Locations – Specify which folder(s) to monitor.*
Extensions – Choose for instance to only look at ".mp3" files.
Add New Media – New media files will be added to your iTunes library.
Search in Subdirectories – Files in roots of your locations and all their sub folders will be processed.
Clean Orphaned Entries** – Entries in the iTunes library that are not found any more will be deleted out of iTunes.

Clean Files On Fixed Drives Only (HDD) – Only invalid entries in the iTunes Library that were stored on local hard disk drives will be deleted.
Synchroclean – Entries in the iTunes Library that are still valid but not in one of the locations specified will be removed.

Update Track Info – Track information of entries in the iTunes Library will be updated with the meta information [tags] stored in the media files. ***
Update iPod – Updates your iPod after updating the library.
Close iTunes – Quit iTunes after the library update process.
*You can also specify the location of the iTunes Library XML file if you store your songs somewhere other than in "My Music".
**This is the same as what RemoveDeadTracks.js does.
***This is the same as what Update.js does.
Note: You are recommended to backup your iTunes database ('iTunes Music Library.itl' and 'iTunes Music Library.xml') files, just to be on the safe side.